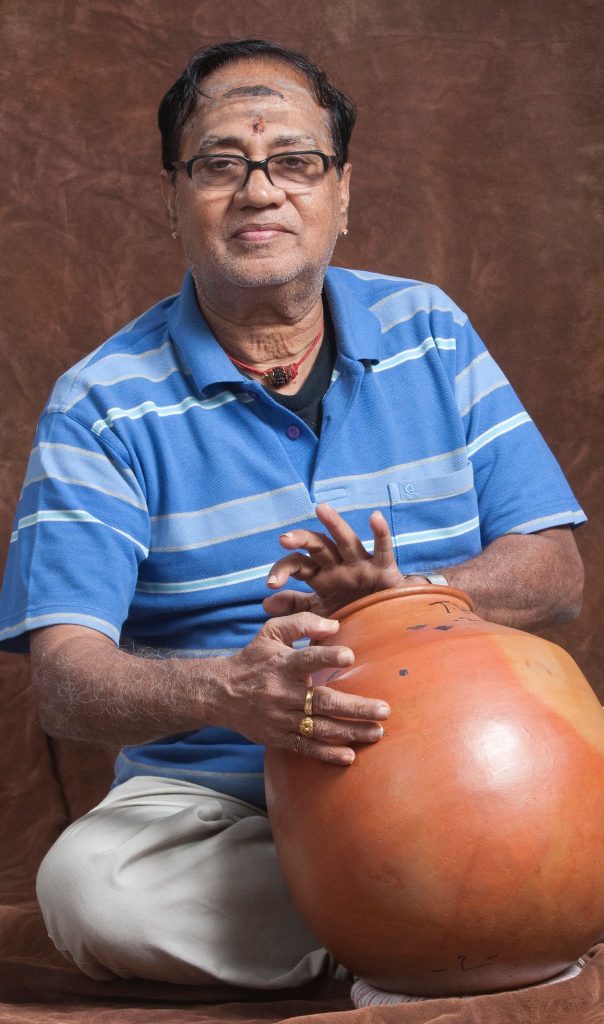 PROF T H SUBASH CHANDRAN
SOUTH INDIAN PERCUSSION MAESTRO
Sri T H Subash Chandran is highly recognized percussionist from Chennai, South India. He is a multi percussionist, performing all kinds of South Indian Classical Carnatic Percussion instruments viz Mridangam (Barrel Shaped Drum), Ghatam (Claypot), Kanjira (South Indian Frame Drum), Morsingh (Jaws Harp) and Konnakkol (Vocal Percussion). Besides the above, he can handle all types of Indian percussion instruments from classical and folk.
Sri T H Subash Chandran has developed international repute through his spellbinding performances at the United Nations, the Festivals of India in USA, Russia (formerly USSR), Switzerland, Japan and with the various philharmonics such as, NY Philharmonic with conductor Mr Zubin Mehta, Norwegian Philharmonic, USSR Philharmonic, Oslo Philharmonic with renowned violinist Dr L Subramaniam. He has toured all over the world including Japan, Canada, USA, South America, UK, Germany and other European Countries.
Subash was a faculty of the CALIFORNIA INSTITUTE OF THE ARTS, CA during 1976-1977, where he taught South India Percussion. Some of his renowned students working now as faculties in universities including, Mr John Bergamo of Cal Arts, Mr Dan Kenney of CSU, Sacremento, Mr Tomm Roland, UNO, Nebraska etc… He is the professor emeritus at the Sankara Institute of Percussive Arts and Music, New Jersey wherein he conducts advances workshops on the South Indian Percussions for the last nine years and training more than hundreds of students. He also taught percussion at Sri Venkateshwara Temple, Pittsburgh, USA for a period of 4 years (1989-1992). He is the Vice-Principal of Sri Jaya Ganesh Tala Vadya Vidyalaya in Chennai. He trained many students in the field of south Indian percussions within India and aborad.
Subash Chandran made music choreography for the contemporary dance productions by renowned Indian dancer Ms Chandralekha in her works titled 'Yantra', 'Mahakal', 'Raaga'. He performed in the 'Global Echoes' with renowned chitra veena artist Sri Ravikiran presented by Kala Sangam in collaboration with the members of BBC Philharmonic Education and Community. This work was selected among the best five in the millennium festival in the UK from nearly 2000 works from different countries.
Subash Chandran also performed with all time greats Yehudhi Menuhin, Stephen Grapheli, renowned drummers Tony Williams, Max Roach and Indian great artists Smt M S Subbulakshmi, Dr Bala Murali Krishna, Dr L Subramaniam, U Srinivas and others.. He has performed in many albums and CDs and is the recipient of many awards and titles including Asthana Vidwan of Kanchi Kamakoti Mutt.